4 Reasons Why the Toyota RAV4 Is the Perfect Vehicle for Your Family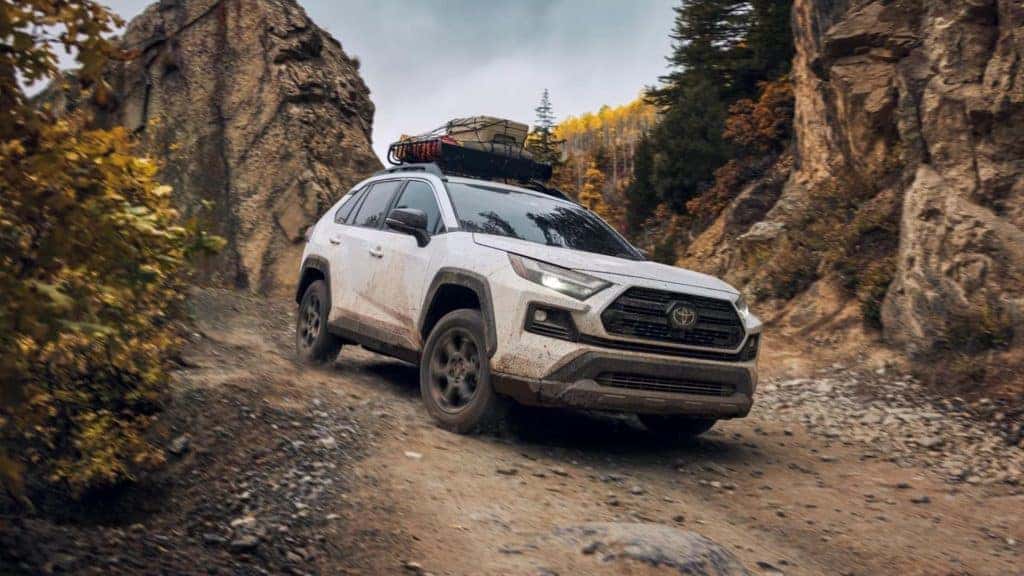 Experts are rating the 2022 Toyota RAV4 as one of the best family vehicles of the year. The five-passenger, four-door vehicle is rated high in all of the car comparisons. The RAV4 comes in six trim levels: LE, XLE, XLE Premium, Adventure, TRD Off-Road, and Limited. All vehicles include a 203-horsepower four-cylinder engine with an eight-speed automatic transmission. The Adventure and TRD Off-Road come with all-wheel drive. All others have a standard front-wheel drive that can be upgraded to all-wheel drive. Our experts at Pinehurst Toyota want to point out 4 of the main reasons the Toyota RAV4 rates so high on the polls.
Toyota Rav4 Price and Features 
1. Interior of Toyota RAV4
The basic version has a comfortable mix of plastics and soft-touch plastics on the dashboard and seats. The interior has faux-leather seats, a leather-wrapped steering wheel, and a padded dashboard with an upgrade. A panoramic glass roof is available for those that love the open air and sky view. The rear seats easily seat three passengers. Unlike some other SUVs, the seats lay perfectly flat when folded down. The back cargo space is expansive and measured 69.8 cubic feet when folded down. The vehicle is comfortable for long rides. It is large enough to hold family and suitcases for long travels.
2. Safety Features of Toyota RAV4
All levels come with some type of navigation. The basic levels have a GPS Scout link that will connect with your smartphone. Your dashboard screen will display a map and turn-by-turn directions. You can select an 8-inch or 9-inch screen. The infotainment system includes a 4G LTE mobile hotspot, Apple CarPlay, and Android Auto capabilities. You can also add a JBL audio system, navigation, and a wireless charging pad.
Other driver-assist options are:
blind-spot monitoring 

drowsy driver detection 

automatic high beams 

rear-cross-traffic alerts
standard automated emergency braking with pedestrian detection

standard lane-departure warning with lane-keeping assist

standard adaptive cruise control
See Toyota Safety Sense for more details about the RAV4s.
3. The Ride
The ride in a RAV4 is very enjoyable. The front seats are sculpted and well-padded. The suspension handles bumps and small obstacles on the road smoothly. It does not bound or float on the road dramatically. Driving around town, passing other vehicles, and merging can all be done smoothly with no engine jerking. Three drive modes are available depending on the style of driving you are doing. Sport provides sharper acceleration, Eco is for fuel efficiency, and Normal is for day-to-day driving. Off-roaders with All-wheel drive can choose between Mud & Sand, Rock & Dirt, Snow, or Normal.
4. Toyota Rav4 Price
Our 2022 Toyota Rav4s range in price from $26,525 for a basic model. You can add upgrades and additional features to get to $48,000 for a fully-loaded model. The Rav4 is more economically-priced than many other SUVs in the same class. They are also available in a hybrid if you are interested in an eco-friendly vehicle. The standard RAV4 averages 27/35 MPG. The hybrid models get much better mileage on long trips. The average MPG for the hybrid is 41/38. Toyota vehicles have one of the highest resale values of all vehicles. Toyota also gives you a very generous 2 years/25,000 miles of ToyotaCare maintenance at no charge.
Toyota Rav4 Sales
At Pinehurst Toyota, we have several Certified Pre Owned Rav4s that we can place you. These run in price from $12,000 to $40,000. Call us or watch our Website for sales on RAV4s, new and Pre Owned. If you have a specific style, color, or model in mind, stop by to see us at 10760 Highway 15-501, Southern Pines, NC 28388. One of our friendly, eager Sales Professionals will be glad to help you find the vehicle of your dreams.