All Wheel Drive Vs 4 Wheel Drive: Which is Right For You?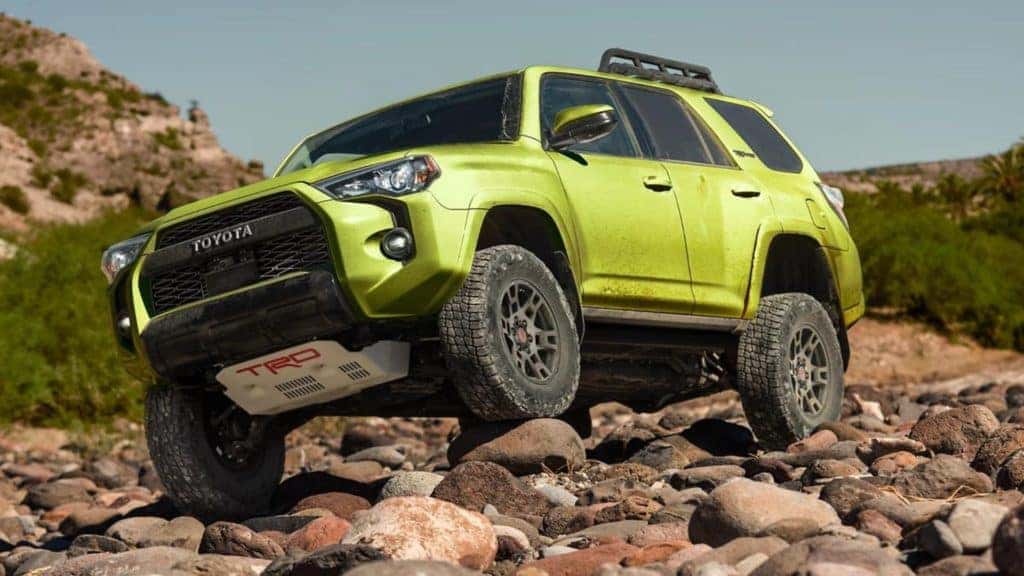 The difference between four-wheel drive and all-wheel drive cars can be confusing for many people. After all, cars have four wheels, so isn't "all-wheel drive" the same thing as saying "four-wheel drive"? Semantically speaking, this is true. But when you're talking about technical specifications of a vehicle, there is a big difference between the two. Four-wheel drive cars and all-wheel drive cars function differently and perform better and worse in certain conditions. Here is a breakdown of the two driving modes to help clear up any confusion about their differences.
All-Wheel Drive vs. 4-Wheel Drive
Four-wheel drive, often abbreviated as 4WD, is effective for off-road driving and heavy towing. In 4-wheel drive systems, equal power is distributed to both the front and rear axles of the vehicle. This provides extra traction on slippery or uneven terrain, and also provides extra power to the vehicle. However, four-wheel drive decreases the car's handling capabilities in other conditions. This means it's often not a great option for city driving.
Most modern cars with 4WD capability have the ability to turn it on and off. Rather than being a permanent driving mode, drivers can activate or deactivate 4-wheel drive as needed.
Like four-wheel drive, All-wheel drive (AWD) works by supplying power to all four wheels of the car. However, unlike 4WD, AWD varies the amount of power distributed to each wheel as needed. Whereas 4WD is a temporary setting controlled by the driver, AWD is a default setting and is controlled automatically. In AWD systems, your car senses when power is needed on each wheel and distributes it accordingly.
All-wheel drive has become increasingly popular as the default driving mode on many commercial vehicles. It is very effective for city driving, as well as driving in harsh weather conditions. Those who expect to drive in snowy weather, for instance, can benefit greatly from an AWD system.
4-Wheel Drive Toyota Vehicles
Four-wheel drive is most common on trucks and large SUVs. This makes sense when you consider that 4WD is most commonly used in off-road conditions and for heavy towing. Toyota models which feature 4-wheel drive capability include the two full-size SUVS (Sequoia and 4Runner), and two pickups (Tacoma and Tundra).
Like most 4WD-capable vehicles, the 4-wheel drive mode on these models is controlled by the driver. Drivers can temporarily engage 4-wheel drive when towing heavy cargo or driving in rugged conditions.
All-Wheel Drive Toyota Vehicles
All-wheel drive has a wider range of applications than 4-wheel drive. As such, a greater number of Toyota vehicles feature all-wheel drive capabilities. The 4Runner, Sequoia, Tacoma, and Tundra all feature AWD in addition to 4WD. 
Various other models in addition to these have available AWD transmissions. The Toyota Sienna hybrid offers a hybrid all-wheel drive minivan that is great for families. Other SUV and truck options include the RAV4, Highlander, and Venza.
Toyota drivers looking for something else can now also choose AWD on either the Toyota Camry or the Toyota Corolla Cross. In previous years, drivers have had to choose between rear-wheel drive or front-wheel drive on these two highly popular sedans. But new innovations have made AWD available on both vehicles in 2022. The Toyota Corolla Cross is a new crossover SUV model that provides extra strength and handling over the baseline model. Drivers interested in this model should also note that Toyota plans to unveil a new hybrid version in 2023!
Toyota Dealership
To shop for any of the great Toyota models mentioned here, visit Pinehurst Toyota in Southern Pines, NC. At Pinehurst, we carry both new and pre-owned vehicles in every Toyota model. Pinehurst offers one of North Carolina's best and largest selections of Toyota vehicles.